Energy access for all
"Making electricity available in third world countries and developing countries means creating a solid base for combating poverty. The high infantile mortality rate caused by the absence of potable water and poor distribution of vaccines is among the most urgent problems that require solutions.
Thanks to electricity, it is possible to pump clean water from the deep water tables and store vaccines in refrigerators at the required temperatures. The availability of electricity is still a mirage for some populations.
We are concerned precisely with these communities. It is here that prompt action needs to be taken, and here that we can make the most of our experience in distributed generation and energy storage systems."
Andrea Tozzi
Rural electrification in Peru: overcoming the social divide and geographical obstacles
In Peru, access to energy is made problematic by the isolation of rural areas and the inadequacy of communication routes. The lack of road infrastructure discourages private initiative in electrification-related projects. This is the main reason that led the Ministry of Energy to launch the rural electrification program, called "Luz para todos", which aims to equip over 220 thousand families with off-grid systems based on solar panels.
"We want to embrace the challenge of providing electricity and light to those who are without it today. We can do it with our experience in the energy sector and our knowledge of energy storage technologies."
Andrea Tozzi
Luz Para Todos
Tozzi Green, through its subsidiaries, has been awarded investment contracts for the supply of electricity from renewable energy sources in off-grid areas, following a tender organised by the Ministry of Energy and Mines.
Ergon supplies electricity to homes via off-grid photovoltaic systems equipped with storage to meet the energy needs for lighting and communication and information systems (mobile phone, radio, television and small household appliances). More than 220,000 families in rural areas throughout the country benefit, as well as schools and health facilities located in the most isolated settlements without a public electricity grid.
Tozzi Green has been involved in the design, installation, maintenance and asset management of off-grid photovoltaic systems for a period of 15 years, thus contributing to substantial growth of the entire country in terms of energy and social aspects.
All in all, the rural electrification project carried out by Tozzi Green is the largest ever, with a total of 222,000 photovoltaic kits installed from 2017 to 2019, called Solar Home Systems (SHS), built on the basis of in-house designed and developed technology. Together, the installed SHS are capable of supplying electricity to almost 1.000.000 people and 3.000 health and education facilities. In 2021, the rural electrification project was further expanded with the installation of additional 8.000 next-generation kits certified by Verasol (formerly Global Lighting).
The latest generation of Solar Home Systems designed by Tozzi Green reduces the use of raw materials and consequently the carbon footprint while making over 50% more energy available to its users. The goal is to increase the widespread adoption of low-powered everyday devices such as LED lights, radios, TVs, fans, solar lanterns and refrigerators that can help improve people's living conditions.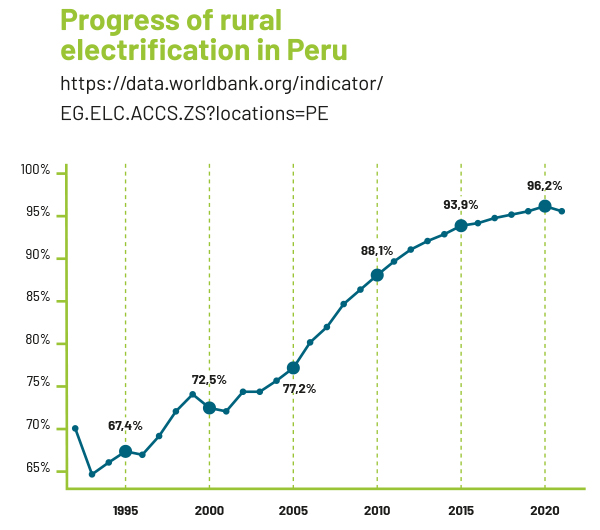 The Energy Progress Report, produced jointly by the International Energy Agency (IEA), the International Renewable Energy Agency (IRENA), the United Nations Statistics Division (UNSD), the World Bank and the World Health Organisation (WHO), shows rapid growth in rural electrification in Peru during Tozzi Green's involvement. Between 2019 and 2020, the growth rate stood at 3.7 %, compared to an average annual growth rate of 0.9 % between 2010 and 2018 (+416.9 %).
Social and economic benefits
Tozzi Green complies with the environmental and social sustainability practices of international financing institutions, such as the IFC (International Financial Corporation), an important stakeholder, an extension of the World Bank in promoting growth in developing countries.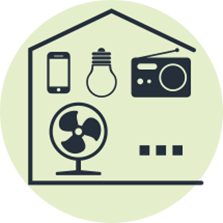 Next-generation Solar Home Systems
Health and education facilities served
Tozzi Green is aware that cultural change and increased awareness of life opportunities must also be supported, alongside the improvement of material living conditions.
Electricity service improves life for people in local communities in their daily work, helping to create a sense of citizenship, bringing the government closer to people and effectively fostering social inclusion.
Electricity allows for a longer working day and facilitates school activities, thus contributing to the right to education.
Electricity decreases the digital, cultural and social divide between communities.
Access to electricity makes it possible to supply the equipment necessary for emergency and medical care facilities, contributing indirectly to health service coverage throughout the country. This means creating a concrete basis for the right to health and access to healthcare.
Electricity helps change the habit of using candles for home lighting, significantly reducing the real risk of fires.